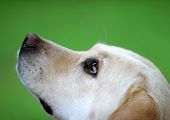 On Saturday, April 22, Arnell Humane Society participated in the first annual Clear Lake Earth Day Celebration to honor Earth Day founder and Clear Lake native Gaylord Nelson.  The event featured education speakers with "green" information on cleaning, gardening, environment and recycling.  In addition to information about the shelter and adoptable animals, Arnell Humane Society offered information about our low income and Barn Cat Spay and Neuter Programs and Basic Canine Obedience Classes.
In the afternoon, shelter dog trainer Claire Scriba demonstrated "Clicker" training with a dog she had never met before.  With tasty rewards, Claire was able to coax the young pup to offer and repeat a desired behavior without fear or physical manipulation.  Claire's clicker (a hand held device that produces a sharp clicking sound when pressed) marked the inclination of the behavior she wanted, followed with a treat.  Soon the pup understood, "When I do this, she clicks and I get a reward."  This method of positive behavior training engages the dog's brain to figure out the puzzle.  The dog is motivated to learn with the positive reward reinforcement.
Claire teaches the Basic Obedience principles of Positive Reward Training at the Arnell Shelter throughout the year.  Puppies and adult dogs learn together; to sit, not jump, come, wait, walk on a loose leash.
Building harmony with dogs is a rewarding endeavor; we all benefit, in so many ways, from the animals in our lives.  When that interaction is positive for the human and the dog, everybody wins.  As part of the Arnell education program, groups and individuals are encouraged to contact the shelter for a free lesson; to learn more about training dogs, helping shelter animals and more.  Boy and Girl Scout Troops, Birthday Parties, 4H Groups, individuals and families will learn how to "Speak Dog" and better understand their canine friends.