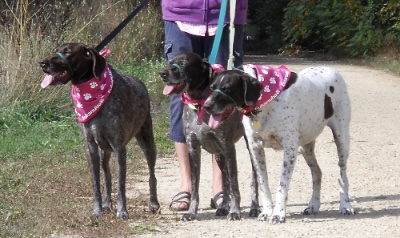 Paws on the Trail – Saturday, September 23rd, 2017. Join Arnell and other Doggy Friends at the Soo Line Park Pavilion in downtown Amery. Registration begins at 10 am and put Paws on the Trail at 11 am – Rain or Shine!
Your dog will show off his colorful Walk for Arnell bandana and if you raise over $25 in pledges, you will receive a Paws on the Trail T-shirt.
Dress you pup for the Costume Contest or demonstrate her obedience and individual skills in the Canine Trick Contest. These two contests are fun for contestants and audience alike. They make the day.
You and your pup will take home free gifts and cookies. All of us will be smiling in the company of so many happy furry faces.
This happy event is a fundraiser for the Arnell Memorial Humane Society. Ask your family and friends to help support our non-profit animal shelter with pledges. Together we can raise funds to support the stray and abandoned pets that rely on our shelter to give them a second chance.