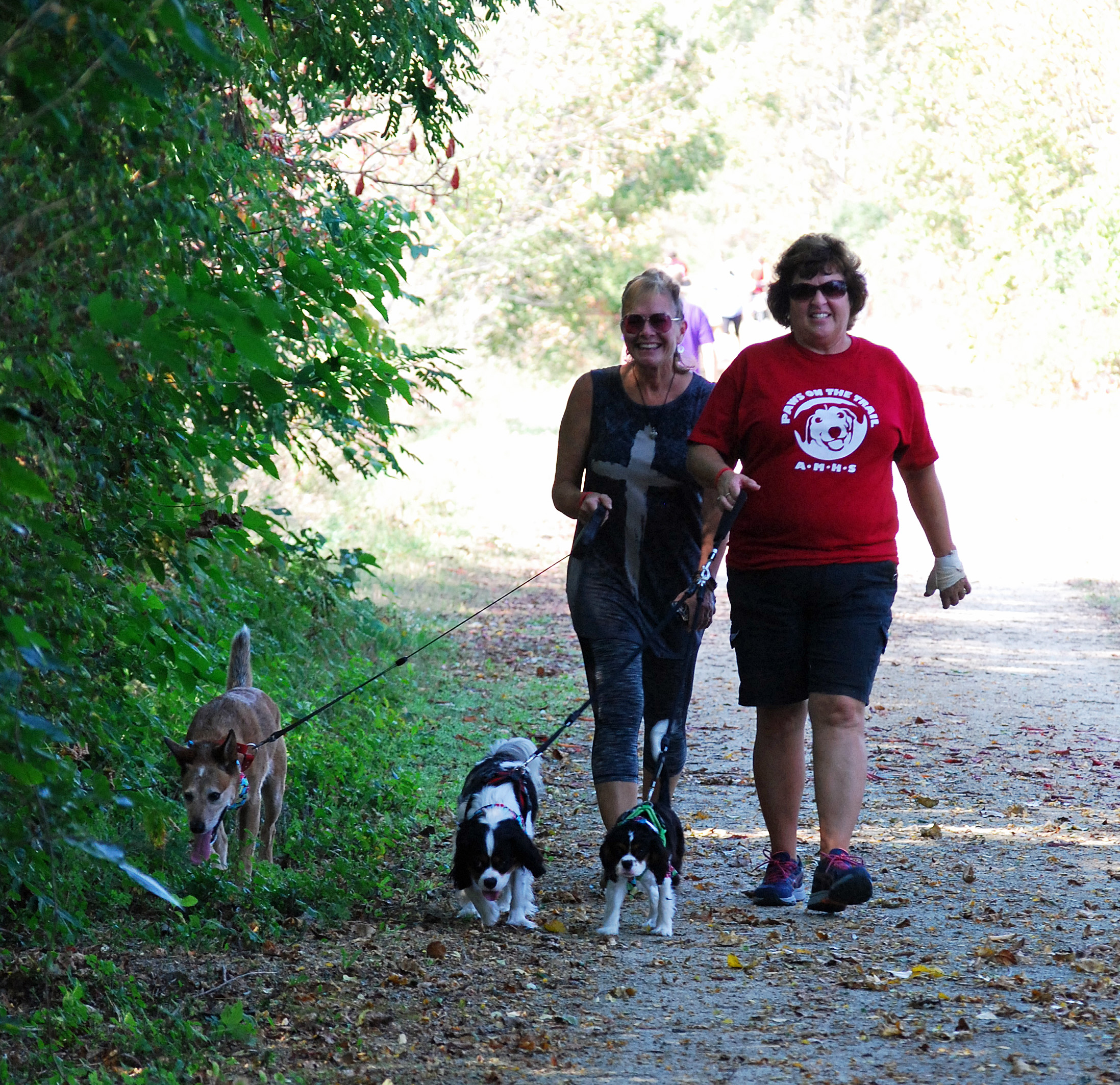 Paws hit the trail on Saturday for the Arnell Walk for Animals.  Over 50 participants registered for the event, enjoying canine camaraderie on Stower Seven Lakes Trail.  With the support of our sponsors and walkers, Paws on the Trail raised $6,300 for the animals at the Arnell shelter.
It was a warm morning as they set out on the trail.  Many Arnell adoptees were in attendance.  Costume, Youngest-Oldest, Largest-Smallest, Simon Says and Best Trick contests entertained the crowd.  This celebration of our love for animals is always a fun event for those on two and four legs.
Top honors in the Costume Contest went to Rocky the Min Pin-Chihuahua Mix, doing his best impersonation as a Chicken.  A close runner-up was Ralph the Red Heeler, complete in his color coordinated Red Mane Lion costume.  The Youngest dog was Ripley at 12 weeks and Oldest, Gracie, 10 years young.
Brody the Border Collie Mix completed the most "Simon Says" commands correctly and won the Largest Dog award.  Poncho Johnson, a Chihuahua won the Smallest Dog award.
The Best Trick Contest is a chance for each individual contestant to shine with their own brand of amazing dog tricks.  This year contestants did High Fives, jumped six feet for a treat and flipped them off their noses and into their mouth.  By popular vote, the Winner of Best Trick was Poncho the Chihuahua, who rolled over onto his back to play dead after the command, "Bang."
The fun is done for this year.  Our heartfelt thanks to our local sponsors for their continued support.  Their gift of sponsorship in this fundraiser is a commitment to our community and the animals who depend on us.  Thank you to all of the dogs and walking participants.  You made the day.  Everyone went home a winner.