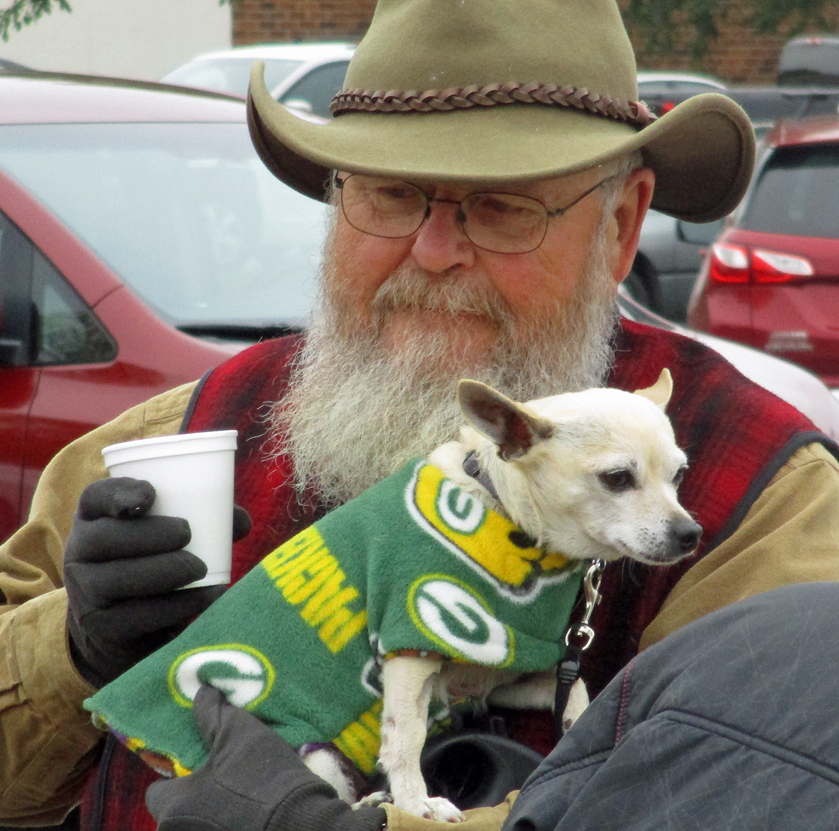 The unseasonal and unreasonably chilly temps on Saturday morning, September 29, didn't dissuade a crowd of hearty canines and their caregivers from attending the 2018 Arnell "Paws on the Trail" fundraising event.  A brisk walk on the Stower Seven Lakes Trail warmed everyone up for the "Fun Dog" Contests that followed.
Dog Walking participants competed in a number of contests that showcased their individual special talents.  Lisa Simon and her dog Fritz (adopted from Arnell) were awarded the Top Pledges Collected prize, with Steph Cahill and Hayley Olson tying for second place and Shelly Anderson raising the third Most Pledges Collected award.  The Paws on the Trail event is a fundraising event for the animals at the Arnell shelter.  Pledges raised will help Arnell offer a second chance to hundreds of homeless pets in search of a loving home.
Arnell adopted alumni won Smallest Dog, Lacey Black, Best Junior Handler, Kermit with Carlene Morgan and Quickest Cookie Catcher, Fritz Simon.
The Oldest Dog was a 13 year old Black Lab mix named Gracie Gusa and Youngest went to three month old Buddy, a Shih Tzu mix.  Frank Evans, a Newfoundland-St. Bernard mix, was the Largest Dog.
The Simon Says contest included a full spectrum of pups, with the quickest participants battling it out to the very end.  It was to be Redford Wilson, a Red Australian Shepherd, who won the prize for his handler, April.
Opie Doughty, the Walker Coonhound delivered the Best Vocal Performance and the Best Kiss.  Ava Schueller and her Blue Heeler-Pointer, Letty, easily won the Best Hand Shake contest and Cavalier Spaniel Shelby Drier won Waggiest Tail.  The Best Mystery Mutt award went to a Wirehaired Dachshund-Terrier named Webster, but we are only guessing at his breeding because his origins are truly a mystery.
The Best Trick competition was blown away by Golden Retriever Rocky Lindberg, who Sat Pretty on his hind legs, balancing a treat on his muzzle and flipping it in the air on command to catch the treat in mid air.  But that was not all the superstar did to earn his Best Trick award.  He gave Brian a High Five in the air, wove his way through Brian's legs like they were agility poles and jumped over a stuffed toy hurdle held up by his proud parents, Brian and Sue.  Rocky was also a close contender in the Best Kisser contest.
A few dogs wore their Paws on the Trail T-Shirts but the Best Costume contestants took it to a new level.  Competing for Best Costume were:  a Black Newfie Stegosaurus, a Beagle Gondolier, a Black Retriever Circus Dog carrying a monkey on his back, a Beagle K-9 Firefighter, a Yorkie and Shih Tzu couple, he in a Hawaiian Shirt and she wearing a grass skirt, a Collie mix cape wearing Wizard and a Red Heeler Lumberjack, complete with red flannel, an ax and Babe the Blue Ox.
All of the dogs were good sports, dazzling in their costumes; really quite impressive.  Hunter the Beagle won the prize in his homemade Gondolier costume.  He wore a black and white striped T-Shirt, a red bow-tie, cummerbund and straw boater cap with a matching band.  Visit our Facebook Page to see all of the Costume, Trick and Personality Winners.
Thank you to everyone who participated and volunteered at 2018 Paws on the Trail.  We deeply appreciate the support of our local business Sponsors who helped to make this event such a success.
It is a fun and games event that makes a big difference for homeless pets in our area.  Arnell Memorial Humane Society.