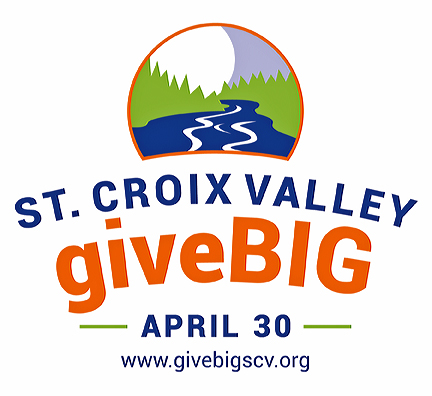 giveBIG St. Croix Valley, –  http://www.givescv.org –  is a one-day online event that encourages our community to log on to giveBIGSCV.org, connect with causes they care about and contribute. giveBIG St. Croix Valley includes nonprofit organizations that serve a broad section of communities in Polk, St. Croix and Pierce counties and always happens on the last Tuesday in April.
Friends of Arnell Memorial Humane Society are encouraged to visit giveSCV.org on April 30, 2019 and donate to the care of stray and unwanted pets at the shelter. And this year, your donations are needed more than ever.   The Arnell shelter has served our animals and community for 19 years, housing 13,074 animals through 2018.
Our dog kennel has taken a beating; withstanding the abuse of energetic dogs and the daily sanitation process required to keep our dogs happy and healthy.  The painted concrete floors and galvanized steel kennel panels are in serious need of repair and replacement.  This major renovation for our aging dog kennels will cost $30,000.  Your giveBig donation will help Arnell make this project a reality.
https://www.givebigscv.org/organization/Arnell-Memorial-Humane-Society
Your donations to Arnell through giveBIG St. Croix Valley are tax deductible.  To help us reach our goal of $15,000, our Executive Board and Nestle-Purina are matching $5,500 in donations – doubling your gift.
Donations can be made online, by mail or in person at the shelter on or before April 30, 2019.
Online gifts may be made between March 1 and April 30, 2019. Online contributions may be made via credit and debit card only and are administered through Mightycause Foundation's donor advised fund.
If using the mail in option, our address is:  AMHS, 185 Griffin St East, Amery, WI  54001.  Please note on your check that your donation is for the giveBIG event.
You can visit the Arnell Memorial Humane Society giveBIG page by clicking on this link:
https://www.givebigscv.org/organization/Arnell-Memorial-Humane-Society
– or visit the giveBIG St. Croix Valley page:   http://www.givescv.org
Your gift will help us provide a safer, more inviting environment for our shelter dogs.  Currently our dog kennels share a center aisle with 4' x 6' kennels on either side.  When in their kennels, the dogs are directly across from one another, each dog facing another.   This lay-out is intimidating for most dogs, not allowing any privacy for the dog.  This lack of privacy can create fear or a need to protect their space.  The result is added stress for a dog who is already dealing with so many changes in their new environment.
An alternate floor plan has been devised using the same traffic aisle and drainage system already in place, but provides the kenneled dogs more room, modest privacy with staggered viewing of one another.  Each stainless steel kennel  will have a solid privacy panel and diagonal gate openings.  The peeling paint over concrete flooring will be re-surfaced with an epoxy flooring that can easily by cleaned and provide sanitation necessary in the shelter setting.
Thank you! You can help make a difference for animals in need, in your local area:
Mark April 30, 2019 on all your calendars.
Follow giveBIG St. Croix Valley and Arnell Memorial Humane Society on Facebook. Share with your friends to help build the buzz.
Spread the word. Forward a link to giveBIGSCV.org to your family and friends along with a personal note as to why you will support AMHS and why they should give on April 30, 2019.
The Fine Print:  93.1% of your donation will be disbursed to nonprofits participating in giveBIG St. Croix Valley. You have the option to cover the 6.9% transaction costs for your nonprofit by turning on the donation booster when you make a donation. All donations are final and cannot be refunded. All donations on givescv.org are made to the Mightycause Foundation, a 501(c)(3) tax-exempt organization that permits donors to advise a regranting of their donations to qualified charitable organizations.  The online service is provided by Mightycause. The Mightycause Foundation is a 501(c)(3) public charity that exists to promote and provide online charitable giving solutions. Upon successful processing of your donation(s), your tax receipt is e-mailed to you immediately by the Mightycause Foundation. To claim a donation as a deduction on your U.S. taxes, please retain your email donation receipt as an official record.
If you misplace your email receipt, you can view your giving history and receipts by logging into your Mightycause account, or request a duplicate receipt by e-mailing support@mightycause.com . Please include your full name, date of donation, amount of donation and name of your designated nonprofit.
Donations made in person or by phone will receive tax receipts from the nonprofit organization directly.