SPAY & NEUTER PROGRAM (SNAP)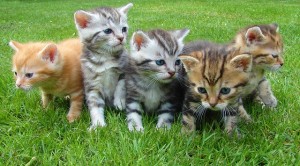 The focus of our SNAP spay and neuter program is to combat pet overpopulation one surgery at a Many kittenstime. Low-income households are eligible for greatly reduced surgery fees with our SNAP voucher program. Qualifying households will be able to purchase a spay or neuter voucher for a cat surgery for $20 or a voucher for a dog surgery for $40. An additional fee of $5 will provide a pet with a one-year rabies vaccination.
Applications for the SNAP program are available at the Arnell shelter in Amery, or you may use the printable form linked below. Qualification for this program is similar to the guidelines for a county- or state-based assistance program. Documentation from public assistance programs such as food stamps, Medicaid, SSI, WIC, unemployment benefits, or pay stubs from an employer or a previous year's tax return will qualify you for this program. Photocopies of income verification, program cards, and a photo ID should accompany your application if it is mailed. Send your application and the required documentation to:
Arnell SNAP
185 Griffin St. East
Amery WI 54001
You may also visit the shelter in Amery to complete the application and acquire a voucher for your pet's surgery. Arnell SNAP Voucher surgeries will be performed at the shelter or at the following local participating veterinary clinics:
Grantsburg Animal Hospital - Grantsburg
Interstate Veterinary Hospital - Centuria
Northwest Wisconsin Veterinary Service - Amery
Please call the Arnell shelter at 715-268-7387 (PETS) for information regarding this program.
In order to qualify, please click here to open the form. Print, complete the application and return it to:
Arnell SNAP, 185 Griffin St East, Amery, WI 54001.
Thank you for being a responsible pet owner. We look forward to helping you with your household's pet overpopulation.
Sincerely
ARNELL SNAP Spay Neuter Program
Basic Obedience for Puppies and Dogs & Homeward Bound Training Academy
We regret that we are no longer able to offer these classes at this time. Please Check back.