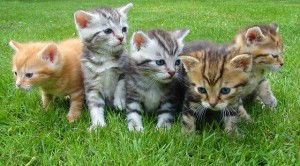 SPAY - NEUTER PROGRAM
The focus of our SNAP spay and neuter program is to combat pet overpopulation one surgery at a time. Low-income households are eligible for greatly reduced surgery fees with our SNAP voucher program.
Qualifying households will be able to purchase a spay or neuter voucher for a cat surgery for $20 or a voucher for a dog surgery for $40. An additional fee of $5 will provide a pet with a one-year rabies vaccination.  Purchase of a Rabies Vaccine is required for animals without proof of a current vaccine.  Cat Surgery with Rabies Vaccine:  $25.  Dog Surgery with Rabies Vaccine:  $45
As our funding is limited, the Arnell SNAP program is offered to Polk County residents only.  If you are not a resident of Polk County, please call your local humane society for information of low cost spay neuter programs in your area.
Qualification for this program is similar to the guidelines for a county- or state-based assistance program. Documentation from public assistance programs such as food stamps, Medicaid, SSI, WIC, unemployment benefits, or pay stubs from an employer or a previous year's tax return and a photo ID, will qualify you for this program.
You may visit the shelter in Amery to complete the application and acquire a voucher for your pet's surgery.  Please call ahead to make an appointment as the shelter is currently Open By Appointment Only.
If you are mailing your application, photocopies of income verification, program cards, and a photo ID should accompany your application with payment by check for each voucher being purchased.   Click here to download a copy of the SNAP application.
Please do not make an appointment for surgery before you have your voucher in hand.  If you do not qualify for the program, your application and payment will be returned to you.
Send your application, required documentation and payment to:
Arnell SNAP
185 Griffin St. East
Amery WI 54001
Arnell SNAP Voucher surgeries will be performed at the following local participating veterinary clinics:
Grantsburg Animal Hospital - Grantsburg
Interstate Veterinary Hospital - Centuria
Northwest Wisconsin Veterinary Service - Amery
Please call the Arnell shelter at 715-268-7387 (PETS) with questions or further information regarding this program.
Thank you for being a responsible pet owner. We look forward to helping you with your household's pet overpopulation.
Sincerely
ARNELL SNAP Spay Neuter Program
Classes Offered Through AMHS
The most important time for puppy socialization is the first four months of life. During this unique precious window, a puppy who has positive experiences with as many new people, animals, and environments as possible has the best chance at growing up to be a happy, confident dog.
Puppy Kindergarten introduces your puppy to basic manners and gives him the self-confidence and social skills he needs to last a lifetime. We'll begin work on basic behaviors like sit, leave it and come, but also take plenty of play breaks to keep it fun and problem-solve your priority issues: chewing, biting, jumping up and house training. 
Classes are on Tuesdays at Arnell Memorial Humane Society, 7 pm, 6 – one hour sessions with an optional (but highly encouraged) half-hour off-leash play time immediately before each session. $ 150.00.  Registration at:  www.upwardhound.com  All puppy classes are open-enrollment, so we will get you in as soon as possible.
Enrolled puppies should be under 18 weeks of age on the first day of class. All sizes, all breeds, all temperaments welcome!
Puppies must have their first round of the DHPP vaccination, as well as their first deworming, at least 10 days before class begins. The bordetella and rabies vaccinations are recommended but not required.
Register:  Please visit the Upward Hound website to register for Puppy Kindergarten Class at Arnell: www.upwardhound.com
Bring to Class: 
Your puppy, good and hungry.
Really yummy food, cut up into small pea-sized pieces. Think soft food like hotdogs, cheese, chicken, beef, salami, liver. No hard or dry treats, please. Soft training treats will be available to purchase.
A bully stick, Kong, or other distracting chew item for your puppy (for break times).
A regular 4-foot or 6-foot leash and a regular buckle collar or harness. No retractable leashes, choke or prong collars, please.
It can be tough for a little pooch to make it in a big dog's world. Even if he loves other dogs, he is sometimes intimidated by the size, speed and play style of boisterous bigger dogs. Now you can let your pint-sized pup express his gregarious side in a safe setting among compatible playmates.
Tuesdays from 5 to 6 pm at Arnell Memorial Humane Society, Amery, from $8.00 per Social, offering a discounted rate if you pre-purchase multiple socials.  After initial class, socials are on drop in basis. All proceeds benefit the Arnell Memorial Humane Society.  Register your dog at:  https://www.upwardhound.com 
This play group social group is for dogs under 20 pounds, from puppies to seniors.  Dogs under 40 pounds who are afraid of other dogs may also join. We will integrate them slowly into the group at whatever pace makes them comfortable.
(Dogs who are profoundly afraid of people, and dogs who have bitten other dogs or humans, please contact me before enrolling.)
Dogs must be up-to-date on their distemper, parvovirus and (if over 6 months) rabies vaccinations.
Classes will be held at Arnell Memorial Humane Society, 185 Griffin St East, Amery, WI  54001
Register your dog at https://www.upwardhound.com before you attend your first social.  Thereafter, you can just drop in!
Bring to Class:
Your dog, good and hungry.
Really yummy food, cut up into small pea-sized pieces. Think soft food like hotdogs, cheese, chicken, beef, salami, liver. No hard or dry treats, please. Soft training treats will be available to purchase.
A regular 4-foot or 6-foot leash and a regular buckle collar or harness. No retractable leashes, choke or prong collars, please.
Casey McGee, CPDT-KA, CSAT, CTC
Casey is proud to be a Certified Professional Dog Trainer-Knowledge Assessed (CPDT-KA), a national certification demonstrating that she has passed rigorous standards for knowledge and skills in science-based dog training and that she stays current on the science and techniques of the dog-training profession through continuing education.
Also a Certified Separation Anxiety Trainer (CSAT), Casey studied with Malena DeMartini and is a graduate of her intensive training program—the only one of its kind to certify dog trainers to work with separation anxiety and isolation distress. Malena is the author of Treating Separation Anxiety in Dogs and a widely-recognized authority in effective treatment protocols for the anxiety disorder that are based in scientific principles of behavior modification.
Casey is also an honors graduate of Jean Donaldson's prestigious Academy for Dog Trainers, where she earned her Certificate in Training and Counseling (CTC). At the Academy, Casey developed a special interest in fear and aggression, and dedicated herself to using the training methods with the best track record for meaningful behavior change.
Casey:  "If you're like me, you love your dog intensely even though you don't always love his behavior. You want help changing his behavior using methods that 1) make you feel good about who you are as a dog owner, 2) help you have a relationship in which you can lead with kindness, 3) produce positive, lasting results and 4) have no dangerous side effects."