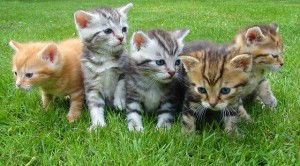 SPAY - NEUTER PROGRAM
The focus of our SNAP spay and neuter program is to combat pet overpopulation one surgery at a time. Low-income households are eligible for greatly reduced surgery fees with our SNAP voucher program.
Qualifying households will be able to purchase a spay or neuter voucher for a cat surgery for $40 or a voucher for a dog surgery for $80. An additional fee of $5 will provide a pet with a one-year rabies vaccination.  Purchase of a Rabies Vaccine is required for animals without proof of a current vaccine.  Cat Surgery with Rabies Vaccine:  $45.  Dog Surgery with Rabies Vaccine:  $85
As our funding is limited, the Arnell SNAP program is offered to Polk County residents only.  If you are not a resident of Polk County, please call your local humane society for information of low cost spay neuter programs in your area.
Qualification for this program is similar to the guidelines for a county- or state-based assistance program. Documentation from public assistance programs such as food stamps, Medicaid, SSI, WIC, unemployment benefits, or pay stubs from an employer or a previous year's tax return and a photo ID, will qualify you for this program.
You may visit the shelter in Amery to complete the application and acquire a voucher for your pet's surgery.  Please call ahead to make an appointment as the shelter is currently Open By Appointment Only.
If you are mailing your application, photocopies of income verification, program cards, and a photo ID should accompany your application with payment by check for each voucher being purchased.   Click here to download a copy of the SNAP application..
Please do not make an appointment for surgery before you have your voucher in hand.  If you do not qualify for the program, your application and payment will be returned to you.
Send your application, required documentation and payment to:
Arnell SNAP
185 Griffin St. East
Amery WI 54001
Arnell SNAP Voucher surgeries will be performed at the following local participating veterinary clinics:
                          *Please note important information below
Northwest Wisconsin Vet Service 949 State Road 46 Amery, WI 54001 (715) 268-6226 nwwvet@gmail.com
Hours: M-F 7:30 a.m. – 5:00 p.m.  Saturday 8:00 a.m. – Noon
*Post-surgical take home pain meds are $25 for all animals
The pet owner is responsible for scheduling the surgery and presenting the SNAP voucher to the clinic on the day of surgery.
Thank you for using the Arnell Memorial Humane Society Spay-Neuter-Assistance-Program!
Please call the Arnell shelter at 715-268-7387 (PETS) with questions or further information regarding this program.
Thank you for being a responsible pet owner. We look forward to helping you with your household's pet overpopulation.
Sincerely
ARNELL SNAP Spay Neuter Program