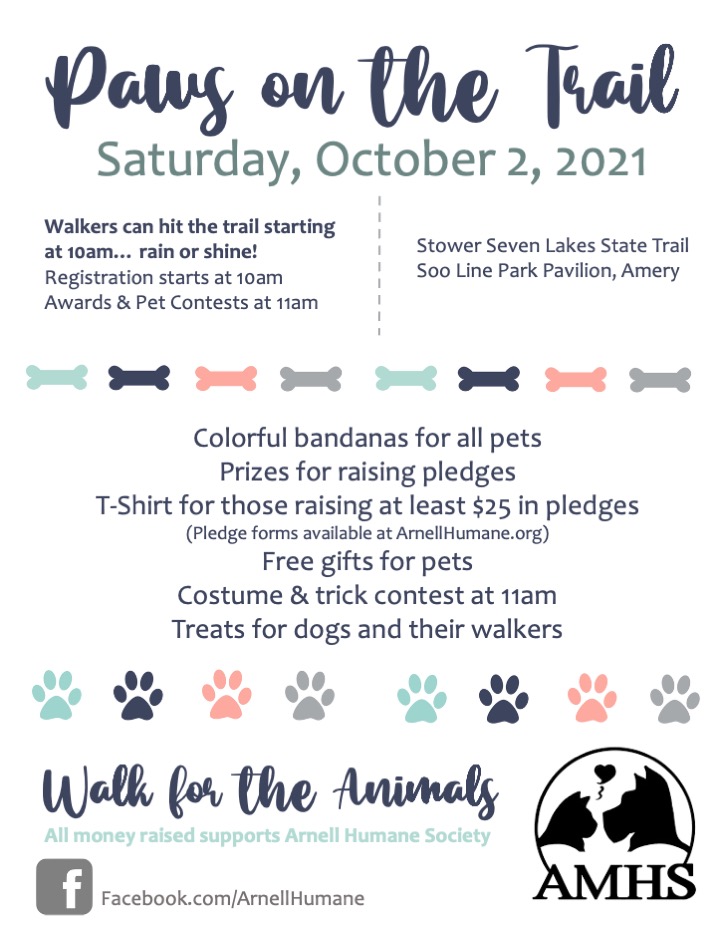 Paws on the Trail for Arnell 2021!!
Join us with your pets on October 2 for the Arnell Paws On The Trail event, at Soo Line Park Pavilion in Amery. Contests and Prizes awarded! An event for ALL ages! Mark your calendar for this fun filled morning!
The Paws on the Trail fundraising event begins at 10 am, at the tail head of the Stower Seven Lakes Trail in downtown Amery. Register for the Walk and enjoy the State Trail at your own pace and distance. All proceeds from the Walk help Arnell Humane Society care for the hundreds of animals that come to the shelter each year for a safe place to recover, be reunited with family or find new forever homes. Your registration and participation in this event makes a difference in their lives.
Fun Dog Contests! They are a chance to show off your dog's natural qualities and amazing skills. Is your dog a Master at Cookie Catching? Has she perfected a unique trick? Is he comfortable in and able to carry off a Doggie Costume? Our Fun Dog Contests at the annual Arnell Paws on the Trail Dog Walk offers your dog his 15 minutes of fame – just for being your special friend.
Enter your dog for Best Kisser or Best Vocal Performance. Prizes will be awarded to the Oldest and Youngest Dogs, Smallest, Largest and Fluffiest Dogs. Your dog could win for being the Best Tail Wagger or Best Mystery Mutt.
A dog's individual skills are showcased in the crowd pleasing, Best Trick contest. An understanding of Basic Obedience commands are highlighted in the Simon Says and Best Jr. Handler contests. There is a contest for everyone.
Join us to share your Furry Best Friend's special talent. Or just come for the fun of watching. Dogs Lovers have a great time meeting and walking with other Dog Lovers as we all revel in our amazing fluffy, furry friends. Registration Pledge Sheets will be available at the Walk or Print one at home.
Prizes are awarded for the top pledging donors. Water and colorful bandanas will be available for the dogs.
Arnell Paws On The Trail, Saturday, October 2 at 10 am, Stower Seven Lakes Trail, See You There!
Click HERE to view and download pledge form.